His films and music videos are seriously wacky, totally weird and rather wonderful. Just take a look at his latest, "Level" for Zombie Nation. We catch up with the young director Bradonio working out of New York-based production company, East + Pleasant.
You've been described as an "up-and-comer" on the East Pleasant roster. Please give us a brief resume of your background that led you to where you are.
I spent the last decade as a cameraman and also as a one-stop shooter/director/editor for everything from MTV and the Travel Channel to indie docs, so that gave me a lot of experience with different styles and the opportunity to bounce around the globe quite a bit. Along the way I ended up at an artist residency called FABRICA (United Colors of Benetton's communication and arts research center) in Treviso, Italy. In my nearly two years there, I was able to refocus on narrative work, research a ton, ride a bicycle to work, direct both commercial and personal projects, drink spritz, collaborate with other artists from all over this planet, and throw living room dance parties. So that experience was impacting to say the least.  
Now I'm in New York, and finally focusing more specifically on one style, and a lot of good momentum has built from that. I was awarded as an ADC Young Guns X recently, which was a huge boost in confidence to just keep making the type of work that makes me happiest. At the party, they also gave away free tacos and held a dance party, so I felt very much at home there.
Your work is completely off the wall. Do you write the narratives, how do you come up with such nutty ideas?
Either a character pops into mind when brainstorming, or some visual technique is stumbled upon when just messing around. Then I try to imagine how this character or technique would interact in the real world, and the story builds out from there. Since the characters are usually strange or the technique makes things look pretty quirky, the moments that they create can turn out to be quite absurd.
As for where that first initial weird idea or character comes from? I honestly don't really know, and I'm not sure I want to know. I just know it makes me happy when they arrive.
And a lot of your ideas incorporate post effects and techie wizardy. Are you actually accomplished in working in effects yourself or do you just think in terms of having effects as part of your visual stories?
I can make quite a few things work with low-fi techniques, but the more skill-based and high-end effects are  way beyond me so I've been collaborating with EP*Vision (Maryam Parwana and Brian Walsh), which does some incredible work. I mime out actions and make sound effects with my mouth and put chicken scratch on paper, and then they interpret that and make magic happen. They've helped me give Charlton Heston shiny disco pants, make taxis fly, goblins invade earth, robots talk, and aliens teleport.
I don't necessarily think of stories because I want to throw effects in there, I'm just currently gravitating towards ideas that have more of a fantasy element to them. Visual effects seem to be a good solution for a lot of these.
Please tell us about your latest piece Level – what were the main challenges of the production and how did you go about resolving them?
Figuring out how to get the speaker belly made in the first place was the biggest challenge. I wasn't sure if we were going to do it fully in post or have a prosthetic made. I called around to a lot of places to see what we could accomplish with the budget we had, and in the end found a team that was game for making it practically. Then we made the speaker move to the music in post during a few moments of the video. This hybrid method of mixing both the practical with post effects was quite a nice way to work.
The next challenge was actually solved by our first solution. I wanted to make sure that people interacted with the main actor on the street, so we could get some natural moments (coupled with some very staged ones) with people on the spot. Having the actual prop instead of just some tracking marks on a hairy belly, made a huge difference in the emotion and performance on set. It roped a lot of curious people in from off the street.
Everything would have been completely different if we hadn't had the physical belly. That's something I know I'll take with me for a long time (I mean that both figuratively with the lesson learned, as well as literally. I plan on wearing the belly at every formal event from here on out).
Your reel features a lot of music videos – are you interested in shooting commercials?
Absolutely. I work in both, and the reason my reel features more music videos at the moment is because a lot of them were projects where I really got to experiment and push the limits further. They showcase concepts and ideas that are more in line with the type of work I love to do. I've been getting more and more boards lately where the concepts are quite ridiculous though, so I feel like it's finally catching on. I'm hopeful for a very absurdly wonderful 2013. 
Apart from Level please tell us your favourite four pieces of work and why.
Planet of the Apes Party Fun Time (personal project)
This was a personal project, something that I collaborated with EP*Vision on solely for the fun of it (it's a very unofficial project for non-commercial use). I absolutely loved making this. It's basically a re-edit of the original Planet of the Apes where Charlton Heston finds some glow sticks on his spacecraft and decides to crash land into the planet in order to search for the ultimate dance party. It's a very direct concept that usually does a good job of making people smile, and is a pretty accurate depiction of what goes on inside of my head when listening to electronic music.
Gramatik "Solidified" (music video)
I stumbled upon the technique used in this video while directing another music video. It's one of my favorites because it's what I like best about experimenting with video. The first project involved filming b-roll of New York through little plastic baggies. It added this foggy look to everything, but still had a very organic feel that was different from the effect we would have achieved in post. At one moment when we were racked out of focus, the edge of the bag crossed the lens. The hard shape from the zip lock created a silhouette, but it ended up in every single "bokeh" of light. It was like it was projected out to each circle of light.
The DP and I sort of just stood there for a moment and went "whoaaaa, did you see… whoaaaaaa." After doing more research, I found that others were using similar effects and that there were some kits to help create this, so we built upon this idea and made little paper puppets that had hinges and moved. The effect made it look like these little monsters were invading the city lights. So from there, the story took shape and we had our goblin invasion.
RJD2 "The Glow" (music video)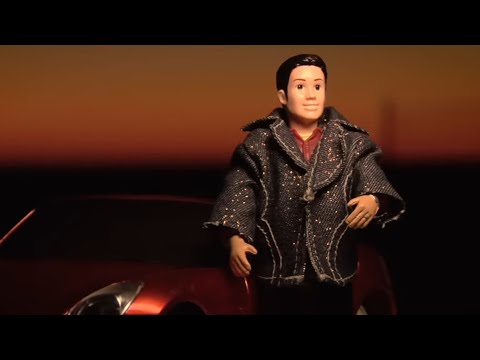 I got to buy a gigantic bag's worth of toys, and then crash into them all with a remote control car. I'm supposedly an adult, but yeah, getting to do that for a few days was quite awesome. It was also my first music video, so to collaborate with RJD2 on that was a great experience. I love videos that have a basic shell around the project (action figure drives car into stuff because he thinks he's got "the glow"), and then you get to pile on idea after idea of what fits inside of that.
Dance Shorts (ongoing series)
This is something I do to just keep the creative juice smoothies flowing. I wander with a dancer until we find a location, brainstorm for a few minutes on a concept using that environment, shoot for about an hour or less, come home and chop it up, never put too much pressure on the project, and often times end up with a nice video in the end. Filmmaking can be such a long process that usually takes so much preparation and coordination. Doing something like this is the closest feeling I can get to being like a musician and just "jamming."