So often talented film makers come out of schools with no idea of how the commercials industry really operates and with only a limited knowledge of the relationship between client, agency and film company. We've unearthed an enterprising projects in New Zealand that help bridge the gap between film school and working in the professional world.
First up we talked to James Cunningham who heads up the Advanced 3D Production course at Auckland's Media Design School where students and industry worked together on this finger-nail biting short film.

Rotting Hill is spectacularly gross which of course we love. How did the idea evolve?
An ex-student sent me some ideas for a short film and one of them was 'Zombie Love Story' and from that one tiny phrase blossomed a plethora of ideas. Together with the class we brain stormed ideas and we came up with dozens of funny ideas and situations that made fun of this fresh collision of film genres. A writer friend, Guy Hamling, wrote the ideas into a script and gave us the great ending.
Once we had the two main actors on board a whole host of talented professionals – from dop, make-up and prosthetics – contributed to the one day shoot of fun and guts.
The students had worked up tests for each VFX shot in pre-production which was key to the smooth shoot.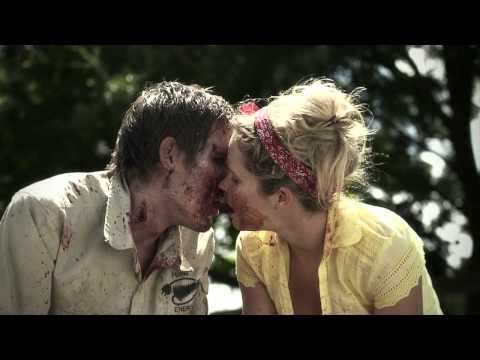 What level were the students who worked on it?
The students working on Rotting Hill had the school's Animation Diploma under their belt, so they weren't entirely green, but still a little way from industry ready. However, once finished the Grad Diploma they are well prepared for employment in the industry. Depending how motivated they are they can get work quite quickly. Two of the students went to Weta within a month to work on Tintin.
Did the script stay true to the original or were there some surprising developments?
Yes, we stayed close to the script as we didn't have much time to play on the rushed one-day shoot.
Were students involved in the crew or were they industry based?
The shoot was about 50 percent crewed by the class of seven students (they made good zombies too!) and we had quite experienced industry folk helping with key roles.
What software did they use for the various digital effects?
We teach and use a range of professional software. Our main work horse is Maya for all our modelling and animation, and we composite in Nuke. We did 3D tracking in Syntheyes as that give us the most control and ability to refine complex tracks.

Was it a year-long project?
Rotting Hill from inception to completion took 14 weeks. In this Graduate Diploma Advanced 3D Productions course we take them through two team productions at approximately 10 weeks each – one fully CGI (e.g. Time For Change) and one live action with VFX (e.g. Das Tub,and First Contact). In the live action projects I produce and direct the films, and bring in many industry professionals to fill out the crew – DOP, writer, actors etc.